Innovation Gender Gap: How to Create Innovation Gender Indicators – The Chilean Way
Dealing with IP data can be challenging by itself. Adding gender to the mix makes it even more complex. Learn how Chile built its own set of innovation gender indicators.
Estimated reading time: 2 minutes
As mentioned in our story on How to Measure the Gender Gap in Innovation, there are different ways to get innovation and IP data with gender breakdown. Mr. Álvaro González, Head of Business Intelligence at INAPI, shared how Chile managed to do it and the results they got.
They started by merging their patent data with three external sources:
The Civil Registry of Chile. Matching the inventors and applicants IDs that INAPI had with national records allowed them to get the gender for each inventor and applicant.
WIPO's International Patent Classification (IPC). Matching the IPC codes that were in their records with the IPC table made it possible to transform the codes into technological fields.
Tax Service Department of Chile. Matching patent owners IDs with company IDs allowed them to gain information about the types of companies applying for patents.
Once they finished, they compiled a Gender Dashboard with the following indicators:
Do you want to learn more about Chile's experience? Find their latest Gender Report and check our selection of studies on the country.
Other stories you may enjoy
Identifying where gender gap challenges in innovation are may be the key to help policymakers intervene effectively. Listen to the gender and diversity expert, Lisa Cook, discussing the issue.
There are several measures of gender gaps in innovation. However, choosing the "right" indicator depends on the purpose. Here are some suggestions on what to consider when choosing the type of indicator.
Related resources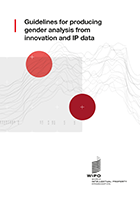 Understanding how women and men can access and use the intellectual property (IP) system equally is key to ensuring that their ingenuity and creativity translates into economic, social and cultural development. This short guide summarizes best practice for producing innovation and IP gender indicators.